Therapeutic Products
Available At Nill Family Chiropractic!
Nill Family Chiropractic offers a wide variety of therapeutic products for retail sale to help you on your road to a healthy lifestyle. Dr. Nill has had extensive training on health and wellness. Come in for a free consult and Dr. Nill will help you with what you need to maintain a healthy lifestyle.
Sombra
Allegro Back Support Brace
SinuCleanse
Valeo Body Ball
Premium Red
Premium Greens
Youngevity Soy/Whey Protein
Arthrosoothe
Intramax - The Ultimate Vitamin
Osteoprev
Prostatrol Forte
Cal Apatite
MyoCalm
MyoCalm P.M.
Pain & Inflammation Remedy
Jarro-Dophilus
---
Orthotics are custom fitted inserts that you place into your shoes to keep your feet functioning correctly. Your feet are the foundation of your body. They support you when you stand, walk, or run. And they help protect your spine, bones, and soft tissues from damaging stress as you move around. Your feet perform better when all their muscles, arches, and bones are in their ideal stable positions. Follow the link above to get more information about the orthotics we provide.
---
Original Warm Therapy

Relieves minor aches and pains of muscles and joints associated with arthritis, simple backaches, strains, bruises and sprains.
Absorbs quickly with a refreshing orange scent.
Unique warming and cooling ingredients.
Alcohol free, non-greasy, non-staining
Used in Ultrasound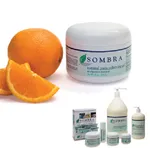 Sombra's Original Warm Therapy Pain Relieving Gel has become one of the leading topical analgesics in the market today. Great for chronic conditions and basic aches and pains, the gel, which has a refreshing orange-citrus scent to it, would be a perfect compliment to your practice.
Active Ingredients
Camphor,
External analgesic
Menthol,
External analgesic
Inactive Ingredients: aloe vera extract, capsaicin, carbomer, decyl polyglucose, deinoized water, grapefruit seed extract, green tea extract, orange peel extract, queen of the prairie extract, rose water, sodium hydroxymethylglycinate, vegetable glycerin, witch hazel, yucca extract.
---

Allegro Back Support Brace
Flexbak helps reduce back stress and strain with a design so unique it's patented. Its three-part support is the key to a system that provides maximum back support with ease of movement. Because no two bodies are exactly the same, this 9" medical-style truss uses two internal support panels above and below the waist surrounded by an elastic third panel. These combine to produce maximum bracing without pinching or riding up.
---
SinuCleanse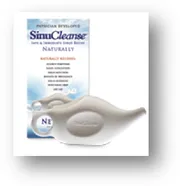 As seen on Oprah and endorced by Dr. Oz, Sinuclanse is a non-drug way of actually opening up the pores within your sinus's to allow for fast relief. Another way Nill Family Chiropractic "Treats the cause, not just the symptoms."
Nasal washing (also known as nasal irrigation or jala neti) is a personal hygiene practice that involves flooding the nasal cavity with warm saline solution (salt water). This soothing action removes excess mucus and moisturizes the nasal cavity.
The SinuCleanse® system offers an effective, all-natural way to cleanse the nose and help control sinus and nasal symptoms over time. It promotes and maintains sinonasal health by treating the root cause of the problem, rather than just treating the symptoms.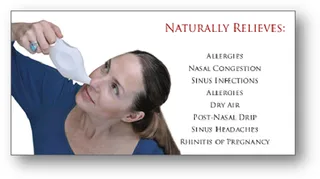 The 100% all-natural saline solution used with the SinuCleanse® system soothes on contact and provides safe and immediate sinus relief. It is completely natural and contains no harmful additives, such as preservatives, anti-caking agents, or iodine, which are commonly found in most saline solutions. Because of this, the SinuCleanse® system can be used as often as needed to manage and prevent sinus congestion.
Because SinuCleanse® in 100% all natural, with no preservatives, the SinuCleanse® system can be used as a complement to current sinus medication and even help intensify the effectiveness of sinus medication.
---
Valeo Body Ball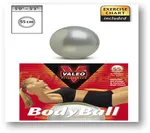 White
55cm (22")
For height 5'0" to 5'3"
Includes a high volume air pump and wall chart of step-by-step instructions for a complete body workout program
Develops strength and flexibility for all fitness levels
Improves balance and coordination
Promotes a healthier posture
---


Premium Red
Each serving of Premium Red provides the antioxidant protection of 10 servings of fruits and vegetables. It includes no artificial colors or flavors, no preservatives, no artificial sweeteners, and no yeast, eggs, MSG or GMO.
---


Premium Greens
Provides the antioxidant protection of 10 servings of fruits and vegetables. It includes no artificial colors or flavors, no preservatives, no artificial sweeteners, and no yeast, eggs, MSG or GMO.Each serving of Premium Greens
---
Youngevity Soy/Whey Protein
The ultimate high-energy supplement. Sustain high
energy levels throughout your day physically, mentally and emotionally. Enjoy the full-flavored natural variety of tastes available by combining with your choice of fruit to achieve a thick milkshakestyle drink. Easy to use - mix with water, non-fat or 1% milk and 1-2 cups of your favorite fruit, blend and drink.
Promotes optimal health and well-being
Supports healthy weight loss
Boosts stamina and energy*
Ultimate control - conquer your food cravings with
Youngevity's® Ultimate™ Nature's Whey™ as a regular part of your daily nutrition. Available in two delicious flavors: Vanilla or Chocolate.
Supplement Facts
Serving Size: 22 g (1 scoop) Servings Per Container: 30 * % Daily Value based on a 2,000 calorie diet. Your daily values may be higher or lower depending on your calorie needs. Calories Chocolate 77; Calories Vanilla 86; Calories from Fat Chocolate 9; Calories from Fat Vanilla 24; Total Fat Chocolate 1 g 1%; Total Fat Vanilla 2.7 g Cholesterol Chocolate 3 mg 1%; Cholesterol Vanilla 0 mg 0%; Sodium Chocolate 225 mg 9%; Sodium Vanilla 175 mg 7%; Potassium Chocolate 210 mg 6%; Potassium Vanilla 50 mg 1%; Total Carbohydrates Chocolate 2 g 1%; Total Carbohydrates Vanilla 4 g 1% ; Dietary Fiber Chocolate 1 g 4%; Dietary Fiber Vanilla .5 g 2%; Sugars 0 g **; Protein 15 g 30%; Vitamin A (as beta carotene) 1750 IU 35%; Vitamin C (as ascorbic acid) 21 mg 35%; Vitamin D-3 (as cholecalciferol) 140 IU 35%; Vitamin E (as d-alpha tocopheryl acetate) 10.5 IU 35%; Vitamin K 28 mcg 35% ; Vitamin B-1 (as thiamine hydrochloride) .5 mg 35%; Vitamin B-2 (as riboflavin) .595 mg 35%; Vitamin B-3 (as niacinamide) 7 mg 35%; Vitamin B-6 (as pyridoxine HCl) .7 mg 35%; Folic Acid 140 mcg 35% ; Vitamin B-12 (as cyanocobalamin) 2 mcg 35%; Biotin 105 mcg 35%; Vitamin B-5 (pantothenic acid as calcium pantothenate) 3 mg 35%; Calcium (from calcium phosphate and naturally occurring)350 mg 35% ; Iron (from iron phosphate) 6 mg 35%; Magnesium (from magnesium carbonate) 140 mg 35%; Zinc (from zinc lactate) 5 mg 35%; Selenium (from l-selenomethionine) 24 mcg 35%; Copper (from copper gluconate) 700 mcg 35%; Molybdenum (from magnesium carbonate) 140 mg 35%; Chromium ( from chromium amino nicotinate) 42 mcg 35%
Amount per Serving % Daily Value*
Other ingredients (chocolate): Soy Protein Isolate, Milk Protein Isolate, Cocoa, Whey Protein Concentrate, Tricalcium Phosphate, Magnesium Carbonate, Non-Dairy Creamer, Natural & Artificial Flavors, FOS/Inulin, Sodium Chloride, Maltodextrin, Xanthum Gum, Potassium Citrate, Iron Pyrophosphate, Sucralose, Zinc Lactate, Ascorbic Acid, Vitamin E (d-alpha tocopheryl acetate), Beta Carotene, Niacinamide, Copper Gluconate, Molybdenum Citrate, Calcium Pantothenate, Vitamin D, Pyridoxine HCI, Riboflavin, Thiamin HCI, Folic Acid, Biotin, Chromium Amino Nicotinate, Molybdenum Chelate, Selenomethionine, and Vitamin B-12. Other ingredients (vanilla): Soy Protein Isolate, Whey Protein Isolate, Natural Vanilla and Cream Flavors, Xanthum Gum, Guar Gum, FOS/Inulin, Maltodextrin, Potassium Chloride, Magnesium Chelate, Ascorbic Acid, Sodium Chloride, Sucralose, Beta Carotene, Niacinamide, Zinc Chelate, Iron Chelate, Copper Gluconate, Calcium Pantothenate, Vitamin D, Pyridoxine HCI, Riboflavin, Thiamin HCI, Folic Acid, Biotin, Chromium Chelate, Molybdenum Chelate, Selenomethionine, and Vitamin B-12
---
Arthrosoothe

Serving Size: 4 capsules
Product Contains: Vitamin B3 (as Niacinamide) 500 mg; Zinc (Zinc Chelazome® Bis-Glycinate Chelate) 10 mg; Selenium (Selenomethionine) 100 mcg; Copper (as Copper Chelazome® Bis-Glycinate Chelate) 1 mg; Manganese (as Manganese Chelazome® Bis-Glycinate Chelate) 1 mg; Glucosamine Sulfate 1,000 mg; Methylsulfonylmethane (MSM) 750 mg; N-Acetyl L-Cysteine (NAC) 200 mg; GlycoMarine™ (Green Lipped Mussel) 100 mg; Boswellia (Boswellia serrata) (resin) 75 mg [standardized to contain 60% Boswellic Acid]; Turmeric (Curcuma longa) 75 mg [standardized to contain 95% Curcuminoids]; Cetyl Myristoleate 50 mg; Hyaluronic Acid 20 mg;Polygonum cuspidatum (root) 20 mg [standardized to contain 50% trans-resveratrol]; Collagen II 2 mg.
Other Ingredients: Microcrystalline cellulose, magnesium stearate.
Recommended Use: As a dietary supplement, take four capsules daily, or as directed by your health care
practitioner. This product does not contain: wheat, yeast, soy protein, gluten, eggs, dairy, corn, artificial colors, flavors, sugars, or preservatives.
---
Intramax - The Ultimate Vitamin
71+, 100% organic microcomplexed™ organic trace minerals (full spectrum)
proprietary organic "carbon-bond" intraCELL™ V Technology
124 antioxidants ("free radical" scavengers / anti-aging)
40 amino acids ("building blocks" of protein)
carbon (living), 100% organic (144,500 mg/l)
7 essential fatty acids (EFA)-omega 3, 6 & 9
oxygen - 427 mg/l (dissolved & stabilized)
14 digestive enzymes (pure plant derived)
43 super green foods & phytonutrients
54 herbs (adaptogenic & supportive)
38 essential oils (organically bound)
64 vitamins and nutrients (essential)
19 macro minerals (100% organic)
23 vegetables (antioxidant rich)
65 electrolytes (100% organic)
aloe vera (organically bound)
8 protein mineral nutrients
30 fruits (antioxidant rich)
silver (organically bound)
13 probiotics (non-dairy)
noni (organically bound)
11 carotenoids (mixed)
25 fibers (all natural)
ultra hypoallergenic
11 optimum seeds
110 bioflavonoids
fulvic acid (9.2%)
100% drug free
NO additives
100% natural
100% vegetarian
intraMAX® does NOT contain: preservatives, colloids, fat, cholesterol, wheat, gluten, caffeine, corn, yeast, rice flour, peanuts, nuts, soy, dairy, fish or fish oil, animal products, artificial additives, artificial colors, artificial flavors, fillers, pesticides, herbicides, antibiotics (drugs), chemicals, starch, binders, coatings, excipients, or flow agents.
intraMAX® is a 100% organic liquid microcomplexed™ all-in-one multivitamin with 415+ essential nutrients in each bottle. It contains 71 trace minerals along with other health promoting "super foods", herbs, fruits, vegetables, probiotics, amino acids, and much more. "intraMAX® is the most scientifically advanced, clinically proven, health promoting organic nutritional supplement available www.druckerlabs.com
---
Osteoprev
OsteoPrev is formulated to nutritionally support the metabolic and structural framework upon which bone is formed. Studies show calcium is only one of the important elements for healthy bones.
Why These Natural Ingredients?
Vitamin D
Required for normal intestinal calcium absorption, vitamin D will decrease in the body with lack of sunlight, decreased dietary intake and malabsorption, all common occurrences in the elderly.
Folic Acid
The biggest value of folic acid as it relates to bone health is its involvement in homocysteine metabolism. Studies have shown that high homocysteine levels can be associated with bone loss due to the adverse effect of homocysteine on bone.
Boron
Shown to reduce urinary excretion of calcium by 44% and significantly increased serum concentrations of the important hormone, 17ß-estradiol.
Ipriflavone
A plant estrogen-like compound studied in both animal and human trials, ipriflavone is believed to slow the rate of bone loss and may even increase the rate of bone formation. Women with osteoporosis given 600 mg per day of ipriflavone had a six percent increase in bone mineral density after twelve months, while the placebo group lost 0.3 percent in bone density.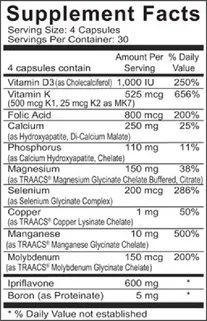 ---
Prostatrol Forte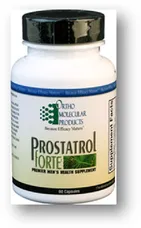 Saw Palmetto Extracts, nettles root extract and pygeum bark extracts affect prostate growth in different ways and their combination in a single formula causes a synergistic effect over single ingredient formulas.
Why These Natural Ingredients?
Saw Palmetto
Studies have shown Saw Palmetto to increase urinary tract function, reducing symptom scores, nocturia, and improving peak urine flow rate. Saw Palmetto was also shown to have fewer side effects than standard therapy while giving the same benefit to the body.
Nettles Root
Helps maintain a normal rate of cell proliferation within the prostate by acting on the Na+/K+ ATPase enzyme. Nettles may also decrease the negative effects of androgens on the prostate while inhibiting prostate cell growth. Pygeum Helps maintain normal effects of growth factors on prostate cells thereby maximizing normal function in the prostate.
Pygeum
has shown to inhibit growth factors responsible for prostatic overgrowth, while reducing prostatic inflammation by inhibiting lipoxygenase enzyme activity.One study on men with BPH showed prostate symptom scores reduced by 40%, quality of life scores improved 31% and nocturnal urination frequency reduced by 32%-- all with 50mg of Pygeum, twice daily for 2 months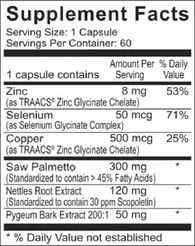 ---
---
Cal Apatite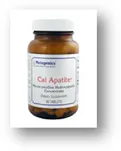 Cal Apatite is a comprehensive bone support formula featuring purity-certified, calcium-rich microcrystalline hydroxyapatite concentrate (MCHC), a complex crystalline compound composed primarily of calcium, phosphorus, delicate organic factors and protein matrix, bone-derived growth factors, and a full spectrum of trace minerals that naturally comprise healthy bone.
Ideal for patients who prefer smaller tablets. In conjunction with regular exercise and a healthy diet, adequate calcium intake can play a significant role in reducing the rate of bone loss or bone thinning and in protecting bone strength.MCHC as a source of calcium helps maintain new bone formation to support bone mass and slow age-related bone loss. MCHC is an excellent source of bioavailable calcium, as well as a full spectrum of minerals and intact organic factors for comprehensive bone nourishment. The MCHC in Cal Apatite is cold-processed to preserve the delicate protein matrix and organic factors. Its microcrystalline structure is verified by X-ray diffraction analysis.
Cal Apatite is regularly assayed by a third-party laboratory for heavy metal contamination. The MCHC in Cal Apatite is imported from New Zealand and derived from free-range fed cattle raised on land where no pesticides are used. Cal Apatite has 20% collagen protein comprised almost exclusively of Type 1 collagen (96%), the predominant collagen in bone, providing further proof of the purity of our MCHC.
---
MyoCalm
MyoCalm®Muscle Relaxation Formula
Recommendations: Two tablets up to three times daily or as directed by your healthcare practitioner.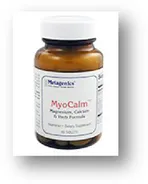 Form: 60 Tablet Bottle; 180 Tablet Bottle
Suitable for vegetarians
Supplies important minerals involved in muscular contraction and relaxation responses.
MyoCalm P.M.®Nighttime Muscle Relaxation Formula
Recommendations: Three tablets at bedtime or as directed by your healthcare practitioner.
Form: 60 Tablet Bottle; 180 Tablet Bottle Suitable for vegetarians
PRODUCT DESCRIPTION: MyoCalm P.M. provides the same specialized formula as MyoCalm® with the addition of lemon balm and hops-herbs traditionally used to promote relaxation and restful sleep. Promotes muscle relaxation. May help relieve minor pain associated with muscle tension, which can be caused by stress or physical overexertion. Promotes a feeling of calm, and can be taken at bedtime for occasional sleeplessness.
THREE TABLETS SUPPLY:
Calcium (as calcium lactate)
75 mg
Magnesium (as magnesium citrate)
150 mg
Passionflower Flower 5.5:1 Extract (Passiflora incarnata)
60 mg
Valerian Root Extract (Valeriana officinalis)
30 mg
Hops Cone 7.5:1 Extract (Humulus lupulus)
60 mg
Lemon Balm Leaf 5:1 Extract (Melissa officinalis)
150 mg
Other Ingredients: Microcrystalline cellulose, croscarmellose sodium, cellulose, stearic acid, silica, magnesium stearate, and coating (deionized water, microcrystalline cellulose, polyethylene glycol, and carrageenan).
Warning: If pregnant or nursing, or taking medication, consult your healthcare practitioner before use. Use with caution when driving or operating machinery; may cause drowsiness.
---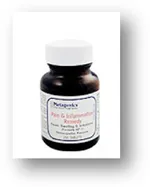 Pain & Inflamation Remedy
Pain & Inflammation Remedy (formerly HP 1) Recommendations: For acute symptoms dissolve four tablets in the mouth every 30 minutes, reducing to three to four times daily upon improvement. Continue until symptoms are relieved. For children three to ten years old use 1/2 the adult dose.
Form: 250 Tablet Bottle PRODUCT DESCRIPTION: Pain & Inflammation Remedy is a high quality, handmade homeopathic formula designed to relieve fever, swelling, pain, earaches, dermatitis, poison oak, or bee stings.
EACH TABLET SUPPLIES:
Apis mellifica
12 x
Belladonna
6 x
Mercurius corrosivus
12 x
Ferrum phosphoricum
3 x
Rhus toxicodendron
12 x
Croton tiglium
3 x
---
Jarro-Dophilus

Jarro-Dophilus EPS® is a Stable-Dophilus® due to its stability at room temperature and enteric coating. Eight (8) different strains of probiotic bacteria are delivered directly into small intestines where probiotic bacteria fully exert their beneficial effects.* Probiotic bacteria in Jarro-Dophilus EPS® are selected from the following 4 genera: Lactobacillus, Bifidobacteria, Lactococcus and Pediococcus. Bifidobacteria Iongum BB536 (morinaga strain) has been shown to colonize, stimulate immune response and suppress intestinal putrefactive bacteria.* L. rhamnosus R0011 is a unique, high producer of polysaccharides that facilitate colonization and stimulate intestinal immune response.* L. acidophilus R0052 assists in breaking down lactose (milk sugar) which may improve digestion of dairy products by those individuals who are lactose intolerant.* Lactococcus and Pediococcus help reduce spoilage caused by unfriendly bacteria in cultured dairy products.*