Anodyne Therapy
Fort Wayne Chiropractor Continues Family Tradition of Healing
Neuropathy Care Center
If you have been told that you have poor circulation; or if you have pain due to a chronic circulatory impairment, Anodyne Therapy may beneficial for you.
Anodyne® Therapy is an Infrared Therapy device that is applied in direct skin contact to any area of the body. Nearly 6,000 Anodyne Providers provide Anodyne® Therapy as part of their care plan for conditions that would benefit from increasing circulation and reducing pain. Exceptional clinical outcomes have been documented in 13 published peer reviewed studies involving nearly 5000 patients.
Our Anodyne® Therapy Providers will conduct a clinical assessment of your condition to determine the best treatment protocol and therapy that should accompany the Anodyne treatment. They will ask you about your goals for therapy and work with you to achieve those goals. They will design a care plan that will include physical therapy interventions to help you with strength, flexibility, range of motion, balance, endurance, etc. based on your personal goals.
The Anodyne Therapy sessions will typically be 30-45 minutes and most of our Providers use the 8-Pad Professional System pictured below.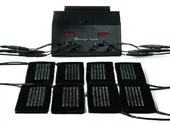 Most patients experience a soothing warmth during Anodyne treatments. However, some experience a tingling sensation or slight discomfort at first. This is a good sign that the blood flow is increasing to the area and should go away after a few treatments. However, if it is too uncomfortable, let your therapist know immediately so they can adjust your treatment protocol.
---


Increased Circulation
Circulation increases were measured by a Moor Scanning Laser Doppler after a 20 - 30 minute Anodyne treatment. Brighter areas in the images below indicate more circulation.
---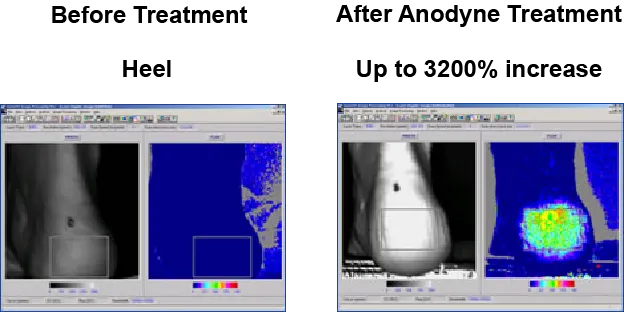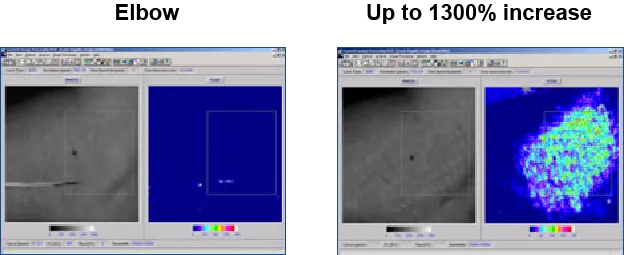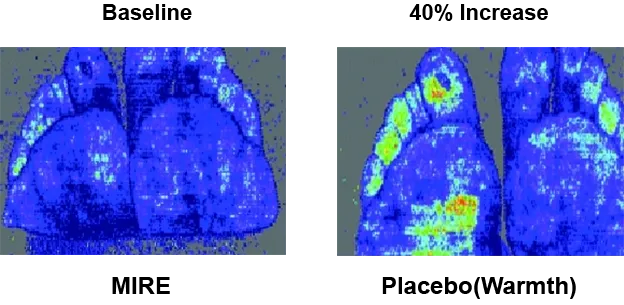 Foot - Foot on left treated with Anodyne (MIRE™) showed a
400% increase in circulation while foot on
right treated with a placebo heat treatment showed only a 40% increase in circulation.


Duration of Circulation Increase vs. Heating Pad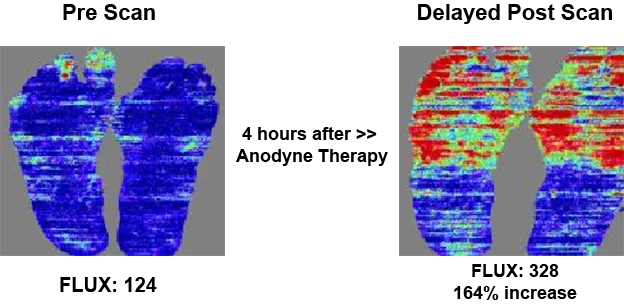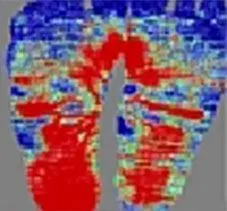 To learn about how Anodyne differs from other Infrared/Laser Products, click here.

"I wanted to take this opportunity to tell you how much your Anodyne machine has helped my husband over the last 2 years. Using the Anodyne machine every other day has made the difference in him being able to walk or just sitting in a chair and giving up. His physical therapist is the one that recommended the fine machine to him, and we are so glad that we bought one. We're been so pleased with the machine and the service you have offered us."
A. M (Kingsport, TN)

"I have used Anodyne Therapy for over a year and a half. It has changed my life and my pain. Walking became painful, and a problem. At night the pain was dreadful, causing many sleepless and painful nights. After 2 weeks of treatment at the hospital, I noticed relief, and gradually, the night pain subsided. I call it the miracle of my life."
B.F (Fairfield, IA)

"Due to the outstanding benefits of Anodyne Therapy, during my 8 weeks of treatment, I bought an Anodyne home unit. I could throw away my cane, but my wife wouldn't let me. Thanks to Anodyne, I can now walk anyplace I want without pain and drive in my car anyplace I want to go. I would recommend Anodyne to anyone who has pain in their legs and feet."
J.C (Yorktown, VA)

"I have used the treatment in my home. The pain was so intense that I was sleeping 2 or 3 hours a night. After the first treatment I noticed improvement. At present, I am quite active for an 83 year old. I am still able to live alone in my own house, drive my car and live a fairly normal life. Your therapy is very important to me, and my quality of life is greatly improved."
A.P (Huntsville, AL)

"I discovered Anodyne Therapy through a seminar that was advertised in the local newspaper. I can not stress the value of this system to my health. It was so difficult for me to talk without pain. After the first session, I could walk from the therapy center without my handicap. I continued the program to the end, and now I have my own home system. Pain is reduced tremendously, walking is made easier for daily chores because of the better blood circulation. Anodyne therapy has greatly improved the quality of life for me."
M.M (Jupiter, FL)

"By happy accident, I discovered Anodyne Therapy a year ago - my doctors had never heard of it! My life has been profoundly affected by the constant pain requiring heavy duty pain killers, as well as the limitations on my activities. A year ago, I was able to try a 6 week program of Anodyne Therapy. To my amazement, there was a definite reduction of my pain level. As I progressed, I found much greater relief of my pain level, which has continued to this day. In summary, my life has improved significantly"
D.M-S (Tuscon, AZ)

"I am a 69 year old diabetic female who has suffered many years. My nights were nightmares, because my feet burned and tingled with pain. I was unable to sleep, and could not allow the sheets to touch my feet. I started my Anodyne Therapy in January 2005. I truly did not believe it would help me, but I reached the point of trying anything. After a month or so, I was able to sleep. Then I reached the point where the sheets could touch my feet without causing me so much pain. It is to me, almost a miracle."
P. C (Bloomington, IL)

"I suffered extreme pain in both my feet and hands. The pain was unrelenting, as i tried to rub or walk the pain away. I called my endocrinologist who sent me to a physical therapy facility where I received Anodyne Therapy treatments. I found almost immediate and complete alleviation of the pain. I now use my home Anodyne Therapy treatments as a way to control the pain. Having a home unit is empowering because I know that I have a way to keep myself from this form of suffering."
M. D ( Los Angeles, CA)

"I had 24 treatments administered by a doctor. I found much help during those treatments of 45 minutes each. She then applied for the home machine, and I was sent the machine. I use this machine every night for 45 minutes before I go to bed. I no longer have pain at night. Previously, I was constantly awakened by the pain and sometimes I was kept up for 2-3 hours. I have also gone off other medications. I can sincerely recommend this machine for pain management, and I am very gratefully for it. This machine is a godsend".
D. P (Minneapolis, MN)

"I was a winner of a home unit recently and wanted to let you know that it was great news! I was also glad to hear that one of your units would be given to another needy patient at my Physical Therapy Facility. The problem that I have started following chemotherapy treatments in 2005 (3 years ago). I have a 'pins and needles' sensation (mild pain) at the bottoms of my feet, which contributes to a problems with walking and with balance. I have found that with physical therapy exercises that are followed by treatment with your Anodyne system, I usually have a few days where I am able to walk with more stability and without holding railings on stairways. Thanks for your product and thanks to the person that picked my name out of the hat for winning the unit."
P.C. (Lexington, MS)

"The Anodyne Therapy has improved the quality of my life beyond description. I can't thank your group enough."
"After going through Anodyne Therapy, podiatrist says that the circulation in my legs is as good as he has seen it in years. I have regained more normal skin coloring in both my feet and legs. As a diabetic on insulin, Anodyne has been a godsend to me".
J.P (Walterboro, SC)

"I have been using the Anodyne Therapy System for approximately four months. I have tried everything that was available to me to reduce the pain associated with this disease. This was the only thing that gave me relief. I actually purchased the system, and use it almost daily! I am so grateful that I was informed about the system."
D. D (Dallas, TX)

"I am happy to report that my pain level has dropped to a barely audible noise."
D.H (Ventura, CA)

"I have been taking treatments since March of 2005. I was in severe pain and burning at night. After several treatments for 3 months, my pain decreased by 80%, and I got some of my life back. I now use my home unit once every 4 days, and my pain is virtually gone, and I now get a good nights sleep. I am now back as a volunteer at a local senior center about 30 hours per week".
J.B (Atlanta, GA)

"The only way I can describe my condition to someone who has never had it is to begin weeping...pitifully. Two doctors, had diagnosed that there was 'nothing that could be done; you would have to live with it'. A very bleak future I thought. After my very first treatment I began experiencing relief. My sleepless nights have turned into six to eight hours of sleep, and most importantly, I started tapering off on the pain killers...and stopped taking them completely just recently. I'm thinking of storing away my four-wheel walker until I find a buyer!
P.D (Stamford, CT)

"I am very enthused with my Anodyne Therapy… It has greatly improved my life and sleep…"
L. F. (St. Louis MO)

"Within three months the pain in my feet began to diminish… today it is gone."
D. O. (Weston, CT)

"I use Anodyne Therapy 6-7 times a week and it has changed the pain in my feet more than tremendously! Prior to treatment, I cried everyday because the pain was so so bad. Burning - FIRE like pain, feeling like I was being sliced by a knife and more. Now there are actually times I have none of that at all. I thank God for Anodyne Therapy."
K.W. (Hampstead, NH)

"I am a physician and I realize this is not a cure, but because of my pain relief, Anodyne has enabled me to go to the grocery store, out to eat and to my doctor's appointment again. I feel very fortunate."
J. M., MD (Kingsport, TN)

"I have to tell you my story about how the Anodyne Home System has helped me. I am a senior and I couldn't stand the bedcovers on my feet. I would cry at night because it hurt so much. I was walking with a cane and couldn't drive. I tried everything from pain medications to magnets, and still I couldn't sleep through the night. I had to stop using some of the medications because of the side-effects. Using Anodyne has been a miracle to me. The pain is gone and I am sleeping through the night again. I am no longer using a cane to walk and I have started driving again! I feel like I have my life back. Last month, I even went on a cruise! I feel so blessed to have found Anodyne Therapy, and I would highly recommend it to anyone who has chronic pain that is affecting their quality of life. "
R.B.(Seminole, FL)

"If it weren't for your machine, I know I would be in a wheelchair. My pain has improved so much! I would love to get hold of our local TV station here because I want people to know about this and that there is help out there. Thank you so much."
R.P. (Auburn, WA)

"I wanted to register with you the success I have had with the Anodyne program. It has been a safe, noninvasive therapy which has provided me with substantial relief and significantly improved the quality of my life. Prior to beginning Anodyne treatments, my feet experienced pain- burning, shooting and stabbing. I could not walk without pain and had to go down stairs one at a time. My balance was declining and my sleep was disturbed. After several months of treatments, I still experience tingling, some numbness and occasional pinpricks of pain, but by and large, the situation is greatly improved."
J.P. (Danbury, CT)

"I have been HIV positive since 1998 and I've been lecturing on HIV/AIDS awareness in various schools and colleges about my own personal experiences living with HIV…In 2003 I went full blown AIDS and I developed pain from an HIV/AIDS medication. My mother informed me about Anodyne therapy and I found a clinic off your website; it was Active Care Rehab in Milwaukee Wisconsin. I started to use the Anodyne unit with wonderful results. I currently now have a home unit and I use it everyday and I love it; it has drastically calmed down my pain in my legs and feet."
F.S.W. (Milwaukee, WI)

Referring Physician
"During my 27 years in practice, I have cared for thousands of patients suffering from painful circulatory problems caused by chronic conditions such as diabetes. When Anodyne Therapy is utilized as part of a comprehensive plan of care, I have seen significant improvements in my patients' pain and their quality of life. Anodyne Therapy is the first treatment I have found that treats not just the symptoms, but also one of the underlying causes of the pain - poor microvascular blood flow. Anodyne Therapy has become a welcome adjunct to my therapeutic arsenal."
Neil J. Goldberg, MD, Diabetologist - Associate Professor of Medicine, UCLA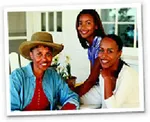 Outpatient Rehab
"With over 35 years of experience in Private Practice, I began using Anodyne Therapy to help capture additional referrals from an entirely different physician group and patient population. I have seen dramatic results with not only diabetic patients, but those with balance disorders that go hand in hand with lower extremity pain. Anodyne has been an excellent physician and direct patient marketing tool for my practice."
D.Smith PT, DHSc SCS, OCS, ATC/L
"With Part B Fee caps and managed care limiting the amount of revenue we can bill per patient, we knew we had to increase patient referral volume in order to thrive. After seeing the business and clinical results in our own patients, we decided to make a purchase. In a profession where results matter, we couldn't afford not to have the Anodyne Therapy System available for our patients."
Shayne Ferguson, PT, MHS, PhD, GCS, CWS (Louisville, KY)

Home Care
"We tried Anodyne Therapy because we wanted to differentiate ourselves while improving outcomes. The results - Anodyne benefited many of our patients, especially those with ambulation problems due to painful, circulatory problems in the extremities. After seeing the clinical results in our own patients, we decided to purchase 76 Anodyne Systems throughout our agencies."
Judy Bishop, CEO (Texas Home Health - Silsbee, TX)

U.S. Military
Anodyne Therapy is used by the U.S. Military including the Navy SEALS, Walter Reed Army Hospital and numerous other military hospitals for treating painful injuries in order to ensure expedient return to duty.